Get Involved
We are busy actively serving God in all sorts of different ways here at First Church! We would love for you to join us at any of our upcoming Sunday services be it in-person or online via Facebook Live.
Other opportunities to get involved here at First Church include our Children's and Youth Ministries, programming for our young adults, weekly Sunday School classes, United Methodist Men's and Women's groups, and other small groups.
Revival
Join us September 24-26 for Revival here at First Church. The Rev. Andy Lambert will be the guest pastor during the morning worship services on Sunday, Sept. 24. Later that evening at 7 p.m. all are welcome to come back for a Revival service in the Sanctuary, with worship also being led by Rev. Andy Lambert. Matthew Weaver will be leading the music.
Come back Monday, Sept. 25 and Tuesday, Sept. 26 for Revival in the Sanctuary at 7 p.m. Worship will be led by Rev. Andy Lambert both nights. The choir at First Church will lead the music on Monday night, and the Praise Team will lead the music on Tuesday night.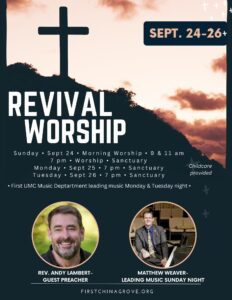 October Events
Mamas in Ministry monthly meet-up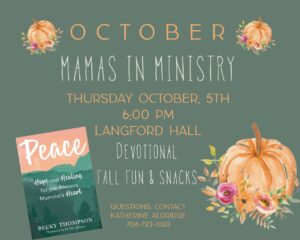 Sixth Annual Halloween Festival
Join us on Saturday, Oct. 28 from 11 a.m. to 1 p.m. for our annual Halloween Festival.
As usual, there will be carnival-style games, a bounce house, hotdog lunch with all the fixings, a cake walk and haunted house. All activities are free, and donations will be accepted for the haunted house.
This year we've decided to do a little something different and include some trunk-or-treat activities in the parking lot behind the Sanctuary.
We hope to see you there!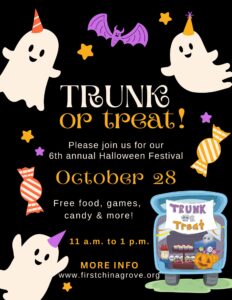 Check back here often for special upcoming events!